BTS Content Index organizes ENGLISH SUBBED content starting from PRE-DEBUT! We DON'T sub any videos in our index nor do we have paid content such as DVDs and Concerts. However, we do have a list to view. Go To 'paid content list'.

For business inquiries please send us an email ([email protected])

Here's a look at our index: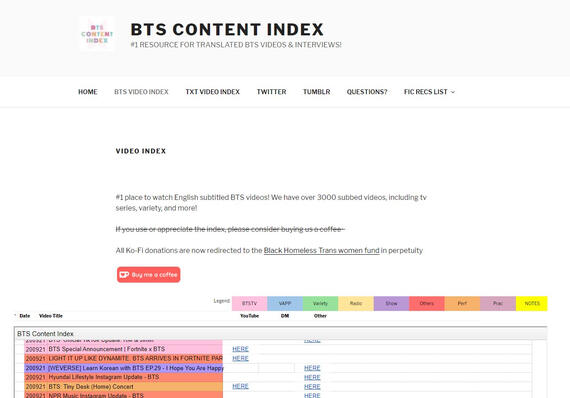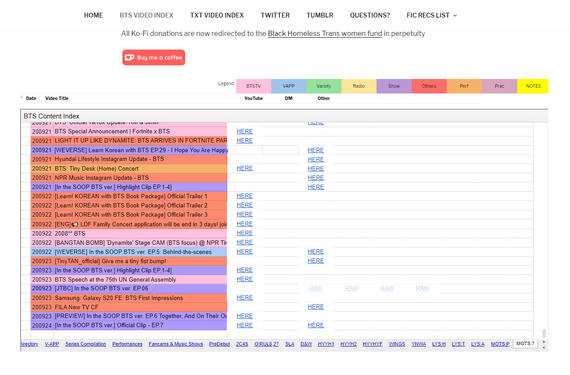 You can find our index in 2 locations! Our website and the google sheet is linked below. If you wish to make a index for another group please contact us. Also, if our index is seen copied and posted somewhere else not by us we will report as copyright.
Incase there's a error within the index for example, either broken links or missing content (not paid) you can report them to us in 4 different ways.

1) Twitter Direct Message
2) Email
3) Curious Cat
4) Google Forms
These are the following platforms we are on! For weverse, please search #BTSContentIndex to find our profile.
We're constantly looking for new admins! It gets very hectic during comeback season and our team can use as much help as possible. If you have any free time, want experience running a fanbase or would like to gain some ARMY friends while helping other in our fans discover more about BTS please join us!

All work is done voluntarily and non-paid.
We have compiled the Paid Content List onto a tumblr post for the convince of not having to copy and paste it all here because it is VERY long. Click on the link below to view.
Many don't know this but we also do have our own customized BTS Spotify Playlist by each member. It contains all music they have mentioned, listened to and even covered. The songs also come from interviews, twitter posts and vlives. We may have a few missing as it's very hard to keep up so if you happen to recognize one not in one of the playlists please let us know!

They are linked down below.